Post by 2NFR on Oct 13, 2019 8:18:30 GMT
Week 1
Ali Fraser (Rocks)
Rahmon Fletcher (Eagles)
Josh Ward-Hibbert (Riders)
Andrew Lawrence (Royals)
Mike Morsell (Eagles)
Week 2
Maxime Djo Ebala (Rocks)
Greg Pryor (Rocks)
Andrew Lawrence (Royals)
Mackey Mcknight (Sharks)
Cortez Edwards (Wolves)
Week 3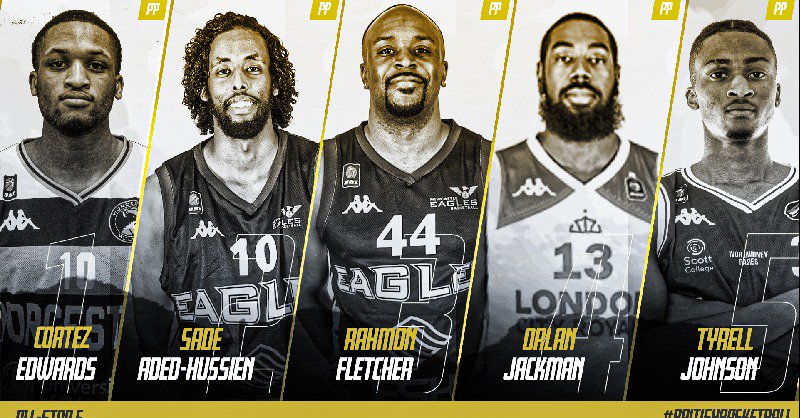 After winning twice at the weekend Newcastle Eagles have two players featuring in this week's BBL All-Star 5, as Rahmon Fletcher and Sade Aded-Hussein led them to BBL Cup victories on the road at Leicester Riders and Cheshire Phoenix.
Cortez Edwards (Worcester Wolves)
Also making his second appearance of the season is Cortez Edwards, who came agonisingly close to a sensational triple-double as he went off for 35 points, nine rebounds and nine assists, shooting 5-8 (62%) from three-point range. Solace for Edwards comes from his late heroics as he scored the final eight points for his team in a 96-94 overtime victory at Bristol Flyers.
Sade Aded-Hussein (Newcastle Eagles)
Newcastle's powerful frontline had a big weekend, led by Sade Aded-Hussein's monstrous double-double of 30 points and 13 rebounds in the 100-92 road win at Cheshire Phoenix. It came in just 26 minutes off the bench as he shot 66% inside and knocked down a pair of triples.
Rahmon Fletcher (Newcastle Eagles)
It's a second appearance of the season already for the two-time BBL MVP, as Fletcher hit 28 points on 52% shooting, along with nine assists in Friday's win over Leicester. He followed that up on Sunday with a double-double of 17 points and 10 assists in victory at Cheshire.
Orlan Jackman (London City Royals)
BBL veteran Orlan Jackman captained his Royals side to a big victory in the capital city derby, with another do-it-all stat line in a statement 92-77 win over London Lions at Crystal Palace. Jackman shot 9-13 (69%) on his way to 23 points, with six rebounds, four assists, three blocks and two steals.
Tyrell Johnson (Plymouth Raiders)
In just his second game as a professional, Tyrell Johnson is a debutant for weekly honours as he came from the bench to do a little bit of everything in Plymouth Raiders' 96-91 defeat of Surrey Scorchers. Johnson had 19 points, along with nine rebounds, three assists, three steals and three blocks, including the bucket that reversed a fourth quarter deficit with five minutes to play.
Off the bench: Parker Jackson-Cartwright (Cheshire Phoenix), Josh Ward-Hibbert (Leicester Riders), Louis Sayers (Cheshire Phoenix), Skyler White (Surrey Scorchers), Brandon Peel (London Lions), Jesse Chuku (Leicester Riders), Rashad Hassan (Plymouth Raiders).